Here are eighteen more projects from woodturner, David Springett. And as might be expected, ADVENTURES IN WOODTURNING is full of surprises and mind-boggling trickery. There is a woodturned variation on the old ship-in-a-bottle trick, a sphere containing a secret tube, a barrel that only opens when you spin it, and an egg that only you will know how to balance.
The projects also include objects rarely seen in wood: a combination locking box, a collapsible beaker, a stunning Faberge-style egg complete with rosebud, and a necklace comprised of ball and socket joints.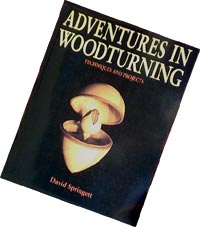 But even more fascinating than the projects themselves, are the techniques used to create them - techniques such as ball-and-socket turning, fluting, multi-centre turning, straight and twisted facet turning, ring turning, and most dramatic of all, elliptical turning, using a home-made chuck adapted from one designed in 1812!
Reviving several traditional techniques - some of them virtually lost to modern woodturning - Mr Springett shows how these very specialist forms of turning can be carried out without great expense, by building your own jigs and chucks. Using these techniques, learn how to make a facet-sided vase, a twist-turned box, a fluted bowl with petal-shaped rim, a many centred bowl or an oval dish - all fully turned on an ordinary lathe.